---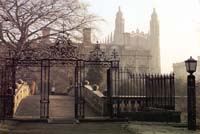 Social Stratification Research Seminars
This page concerns the long-running series of 'Social Stratification Research Seminars'. These have been held annually since the late 1960's. They usually take place in September in Cambridge, but occasionally are held at other venues.
---
Social Stratification Research Seminar 2018
5-7 September 2018, University of Cambridge
The 2018 meeting will - we think! - be the 50th anniversary meeting for this seminar group, and we hope that the 2018 seminar will include a few elements that celebrate this achievement.

Call for papers with booking form:

Academic presentations will take place throughout the day on Thursday 6th and Friday 7th September.

Paper schedule: pdf [version of 3/9/18]

Deadline for paper proposals:

14 June 2018

Confirmation of accepted papers:

21 June 2018

Last possible booking date:

27 August 2018
Venue:

The seminars will be held in the Bennett room, Clare College (Memorial Court), University of Cambridge

(Directions for Clare college)

Accommodation is left to delegates' own arrangements. B&B accommodation is available within Clare College (online booking). Other rooms close to the city centre are also likely to be convenient (see e.g. Univ. rooms website).

Conference organisers:
Paul Lambert ; Jennifer Ferguson
---
Social Stratification Research Seminar 2017
6-8 September 2017, University of Edinburgh
---
Previous meetings

The Social Stratification Research Seminars have been running almost every autumn since 1968. For most of that time they have been organised in Cambridge by the Social Science Research Group (formerly the Sociological Research Group), an organisation within the Department of Sociology, University of Cambridge. Over recent years meetings have been held in Cambridge (2006, 2008-9, 2012-3, 2016), Cardiff (2003-5), Edinburgh (2014, 2017), Milan (2015), Stirling (2007, 2011) and Utrecht (2010).
---
Home.




Last modified 3 Sep 2018
This document is maintained by Paul Lambert (paul.lambert@stirling.ac.uk)