---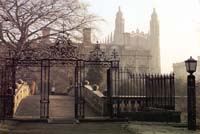 Social Stratification Research Seminars
This page concerns the long-running series of 'Social Stratification Research Seminars'. These have been held annually since the late 1960's, most often organised by Bob Blackburn. They usually take place in September in Cambridge, but occasionally are held at other venues [e.g. blog post from 2013 meeting].
---
Social Stratification Research Seminar 2017
6-8 September 2017, University of Edinburgh
Our 2017 meeting will take place in Edinburgh with academic presentations scheduled 09.00-17.30hrs through Thursday 7th and Friday 8th September. The venue is provided thanks to the support of the School of Social and Political Science, Univeristy of Edinburgh.

Seminar programme

[to be published approx July 2017]

Call for papers and booking form:

Deadline for paper proposals:

12 June 2017

Confirmation of accepted papers:

16 June 2017

Last possible booking deadline:

23 August 2017
Venue:

Academic meetings: Common room of the School of Social and Political Science, University of Edinburgh

(Chrystall MacMillan building, 15a George Square, Edinburgh, EH8 9LD: directions )

Accommodation is left to delegates' own arrangements. Edinburgh is generally a busy place around the time of our seminar so it can be good advice to make arrangements as early as possible.

Conference organisers:
Paul Lambert; Jennifer Ferguson ; Vernon Gayle
---
---
Social Stratification Research Seminar 2016
7-9 September 2016, University of Cambridge
---
Previous meetings

The Social Stratification Research Seminars have been running almost every autumn since 1968. For most of that time they have been organised in Cambridge by the Social Science Research Group (formerly the Sociological Research Group), an organisation within the Department of Sociology, University of Cambridge. Over recent years meetings have been held in Cambridge (2006, 2008-9, 2012-3, 2016), Cardiff (2003-5), Edinburgh (2014), Milan (2015), Stirling (2007, 2011) and Utrecht (2010).
---
Home.




Last modified 15 May 2017
This document is maintained by Paul Lambert (paul.lambert@stirling.ac.uk)